Manifesting Memento Poster
This beautiful and colorful Manifesting Memento Poster  is an awesome reminder of the manifestation principles. And it will keep you focused on your manifesting power everyday!
Hang your poster on a wall next to your desk, by your bed, in your bathroom or in any spot you'll be looking at often, to be constantly inspired and motivated by its message: you are aligning with your best life with your imagination, focus you what you want to experience and allow it to come to you.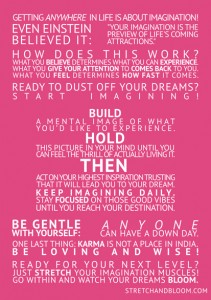 For best results, use a professional printshop.
Your poster prints up to an A3 format.
Downloadable .pdf, .jpeg files.
Color may vary slightly. Sold without frame.
This item no longer sold. However, you will find a smaller black & white version of this Manifesting Memento in the Dream Life Planner included in this workshop.